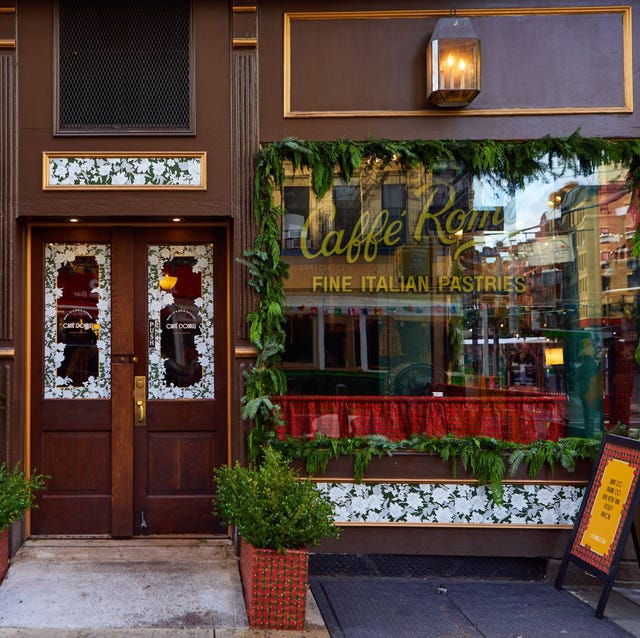 Courtesy
Temperatures are dropping, wish lists are growing…it's officially December, folks! We're wrapping up 2022 in style with everything you need to know about this month, from La DoubleJ's takeover of Caffe Roma in New York City to Jennifer Fisher's slouchy boot designed in partnership with it-girl brand Larroudé and more. Keep your eye on this space for all the best fashion collabs, news, and launches that will help you knock some items off your holiday shopping list (and, hopefully, add a few pieces to your own cart along the way).
Advertisement – Continue Reading Below
1
La DoubleJ Launches Roman Holiday Homeware With Caffe Roma Takeover
Who: La DoubleJ
What: Caffe Roma takeover and Roman Holiday homeware collection
Where: Caffe Roma in Little Italy, NYC; homewares also available online at ladoublej.com
Why: If you've been to New York City's Little Italy and you've got a serious sweet tooth, chances are you've heard of Caffe Roma. The neighborhood institution has been serving up traditional Italian sweets for over 100 years, and this month, Milanese label La DoubleJ is taking over for a celebration of maximalist proportions. The eccentric and bright patterns of the renowned resortwear brand inspired a "Roman Holiday" line of plates, cups, and tablewares that are best enjoyed with a slice of panettone and an espresso, or the special cookie set the brand and restaurant collaborated on. Because what is Christmas without a heavy dose of sugar?
2
Marimekko Reopens NYC Flagship in Soho
Who: Marimekko
What: Store opening in Soho, NYC
Where: 97 Wooster Street, NYC
Why: If shipping delays and general malaise are making online shopping feel more like a chore than anything, rediscover your love for perusing items IRL with the new experimental Marimekko flagship in the heart of New York City's Soho neighborhood. The brand's signature quirky patterns aren't in the store design, as the space provides a minimal, industrial setting for community activations, new collections, and a springboard for new ideas. Shoppers will find the usual assortment of RTW and accessories, plus a smattering of Scandi homeware and décor that is hygge in the best way possible.
3
Jacquie Aiche x NSF
Jacquie Aiche and NSF Continue Partnership With Trippy Sweaters
4
Zara
Zara Unveils 'A New Sensuality' Capsule
5
Bottega Veneta Launches 'Bottega for Bottegas'
Who: Bottega Veneta
What: "Bottega for Bottegas" initiative
Where: Discover more online at bottegaveneta.com and at Bergdorf Goodman
Why: Bottega Veneta is deeply invested in craftsmanship, recognizing that wonderful objects are made possible by the tireless work of artisans and craftspeople around the world. With "Bottega for Bottegas," the brand is highlighting other "bottegas" (rough translation: workshops) internationally, honoring those who are equally invested in and enthusiastic about their product. Take, for instance, these espresso cups by Japanese ceramist Yoshiaki Imamura, made specifically for enjoying the traditional Italian drink. La dolce vita has officially gone global.
6
Hunter x Rowing Blazers
Hunter and Rowing Blazers Drop Collab
7
Copenhagen Fashion Week Announces Brand Lineup for AW23
Who: Copenhagen Fashion Week
What: Fall/winter 2023 brand lineup
Where: Online at copenhagenfashionweek.com
Why: Copenhagen Fashion Week has quickly become a go-to for the style set to discover cult brands like Ganni (pictured here) and Rotate on the runway, and cool-as-hell Scandi style on the street. For fall/winter 2023, the calendar includes veteran and new names alike—all joined by the ethos of sustainability. "The reason that this band lineup is so exciting is not only because it showcases the best of Nordic design, but also because it marks a milestone for Copenhagen Fashion Week, as the brands have been screened to the Minimum Standards," CPHFW CEO Cecilie Thorsmark exclusively tells ELLE.com. "After a successful screening, both from a fashion design perspective and from a full value chain perspective, this edition will clearly show that creativity and impact doesn't have to be subordinated by brands' ambitions to act responsibly." Mark your calendars for January 31 to February 3!
8
Miaou
Miaou Opens Up Its Archives
9
Nili Lotan
Nili Lotan Introduces Handbags
10
Oscar de la Renta
Laura Kim and Athena Calderone Team Up for Cooking Video
11
Altuzarra
Altuzarra Releases the Parka Bag
12
Canada Goose x Reformation
Canada Goose Partners With Reformation
13
Malone Souliers
Malone Souliers Debuts the 'Emily in Paris' Collection
14
Loro Piana
Loro Piana Creates Candleholders With Charlotte Chesnais
15
Pamela Love
Pamela Love Collaborates With Sophia Roe
16
Chloé x Barbour
Chloé x Barbour Is Available for Pre-Order
17
Tod's x 8 Moncler Palm Angels
Tod's Partners With 8 Moncler Palm Angels on Winter-Ready Shoes
18
Aviator Nation
Aviator Nation Opens NYC Pop-Up With Winter Collection
19
Fendi
Fendi Debuts Home Décor and Accessories Collection
20
Adidas x Humanrace
Adidas Drops Samba Capsule With Pharrell's Humanrace
21
Moose Knuckles x Telfar
Telfar and Moose Knuckles Drop Second Capsule
22
Larroudé x Jennifer Fisher
Larroudé Taps Jennifer Fisher for Downtown-Chic Boot Collaboration
23
Tekla x Jacquemus
Tekla and Jacquemus Collaborate on Sleepwear
24
Versace
Morphew Creates Dress Collection With Vintage Versace Scarves
25
Apollo Candles Bring a Bit of Italy Home
Who: Apollo Candles New York
What: Candles inspired by la dolce vita
Where: Online at Apollo Candles
Why: In search of a transportive gift this holiday season (or anytime)? Newly launched Apollo Candles offers some of the cleanest and most covetable scents around, channeling everything from Sicilian citrus groves to the fir-tinged breezes of the Dolomites. Founded by tech marketing whiz (the packaging is stunning) James Napoli in his NYC kitchen with inspiration from his Italian heritage and a grandfather who made candles as a hobby, each candle is crafted from clean-burning coconut wax for greater throw and housed in a reusable Riedel double rocks glass.
26
Ghurka Introduces the Perfect Holiday Tote
Who: Ghurka
What: The Daily II No. 304 Tote
Where: Online at Ghurka
Why: Any handbag collector worth their salt will know the name John Truex. As one half of the New York-based brand Lambertson Truex, he created some of the most iconic carryalls of the '90s. For the last few years, Truex has also taken the reigns as creative director of Ghurka, the Norwalk, Connecticut based leathergoods company whose handcrafted safari chic wares are beloved by those in the know. The lastest addition to the range, the Daily II No. 304 tote, is available in classic leather and a limited edition plaid wool perfect for lugging gifts (or anything, really) this holiday season and beyond.
Advertisement – Continue Reading Below